Numintec's social commitment
Numintec is a socially responsible company and is steadfastly committed to projects operated by different organisations and associations:
Active, Volunteers, Committed
We may work in the cloud, but our feet are firmly on the ground, and social commitment is one of our founding values. Ever since we started out as a company, we wanted corporate social responsibility to guide our management and its impact to last over time.
Agenda 2030
Ever since the Agenda for Sustainable Development and SDGs was established in 2015, we have been involved in several initiatives aligned with the goals of this important worldwide challenge Some of our actions include participation in the United Nations Climate Change Conference (COP25) held in Madrid in 2019, where we gave a paper voicing our thoughts on the impact of climate change on the economy. We are also working on a project that will fight child poverty, with a view to convincing the world's countries to allocate more resources towards improving the life of society's most vulnerable group. Also, as part of the Agenda 2030, we are engaged in an action to fight discrimination on account of age in the job world. In January 2020, we organised the first NumintecForum, a space for debate with the focus on the most worrying social issues of our times. The first day was devoted to Woman's Equality in Employment. 
We all deserve a second chance
Besides our collaboration work with social foundations, non-profit associations and community dining rooms, we have implemented different initiatives in highly diverse areas to disseminate our social philosophy. One of the actions in which we take great pride, on account of its impact and influence, is related to the Second Chance Law, which is intended to enable entrepreneurs and the self-employed to get back on their feet following crisis situations in their business and therefore have a second chance to carry on.
Equality, occupational flexibility and work-life balance plan
We should never forget the inner workings of our company, since our team is one of our greatest assets, which is why we have a company equality and policy plan in place that promotes work-life balance.
"El Corredor" a successful initiative
To provide greater exposure to the Second Chance message in the business world, we produced the short film called "El Corredor". A minor work of art that tells the story of a businessman who has lost everything and meets up with a former employee that he had been obliged to fire; this leads to a very inventive dialogue with an outcome that provides food for thought and leaves nobody feeling indifferent. It has been screened in more than 100 countries, it is the most lauded short film in history of Spanish film-making and carried off numerous awards and prizes, including the Goya, Gaudí, Seminci, José María Forqué and best European short film awards. It even received an Academy Award nomination. It has been screened in the European Parliament, as well as in numerous business associations and governmental agencies.
Culture and sport
Sport has been part of Numintec since its beginnings, which is why we support cultural and sports activities as key elements in society.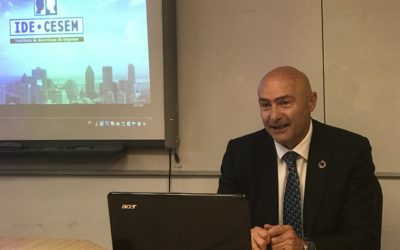 El pasado 23 de mayo, el Presidente Ejecutivo de Numintec, José María Torres, dio la conferencia 'Levántate, te...
Numintec makes things easier for you
Take your communications to a different level: more profitable, more flexible, more information, greater facility, climb aboard the Numintec cloud. If you would like to request a demo of any of the Numintec solutions, just get in touch with us.